SEO
Search Engine Optimization
SEO is short for Search Engine Optimization. SEO is the combination of keyword and search query rich content creation, the socialization of that content, link acquisition, local search optimization, online mentions, and brand awareness, all wrapped into one.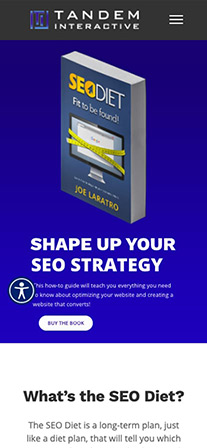 The Best SEO Company in Fort Lauderdale, FL
The latest internet statistics show that Google now processes over 63,000 search queries every second on average, which translates to over 5.5 billion searches per day and over 1.5 trillion searches per year worldwide. On average, there are over 90 billion searches per month in the United States alone.
Those searches become clicks that either convert to a sale or don't. The clicks become leads and those leads are hopefully converted to sales. If you have the right SEO company in Fort Lauderdale on your side, those clicks will result in profit.
Effective Search Engine Optimization in South Florida
Perhaps the part that is most important for SEO companies in Fort Lauderdale, is the fact that all search traffic results from a query. It is a digital marketer's job to have their client be the result for that query.
Tandem is an SEO agency in Fort Lauderdale, Florida with over 10 years of experience in the complex world of search. With custom-tailored SEO packages, our digital marketing specialists will get that job done. Providing optimized content creation, link acquisition, and more SEO services in Florida to ensure top search rankings for your business.
Reputable South Florida SEO Company
Tandem is a known for creating custom-tailored SEO packages that work for our clients. We offer an in-depth analysis of your website and how well it is performing in terms of how visible its SEO optimized content is on search engines.
Search engine optimization is about so much more than just creating a website and blogging on it. SEO efforts are an on-going, ever-changing, vital necessity for your website's online presence and your brand's reputation and awareness. With Team Tandem, you can get your site in a good position in search engine result pages (SERPs). Tandem SEO services include,
but not limited to
Why SEO Services Matter?
A physical store needs advertising, word of mouth recommendations, and a good location. Your website needs all the same elements, but in digital form. SEO services are essential for all businesses to survive and thrive in the online world of clicks, pop ups, and information overload.
Developing an online presence without SEO is like building your business out in the middle of the desert before the road has been built. At Tandem, our SEO services in Florida are about growth, direction, and making sure that your online presence is reaching the right people, with the right information.
If you want more information about the custom-tailored SEO packages and innovative digital marketing services we offer at Tandem, contact us or call (954) 519-4114 today.